Walsingham Publishing - Catholic Cycle of Prayer
Let all the world in ev'ry corner sing,
My God and King!
--George Herbert, 1633
Available online at
Or in print from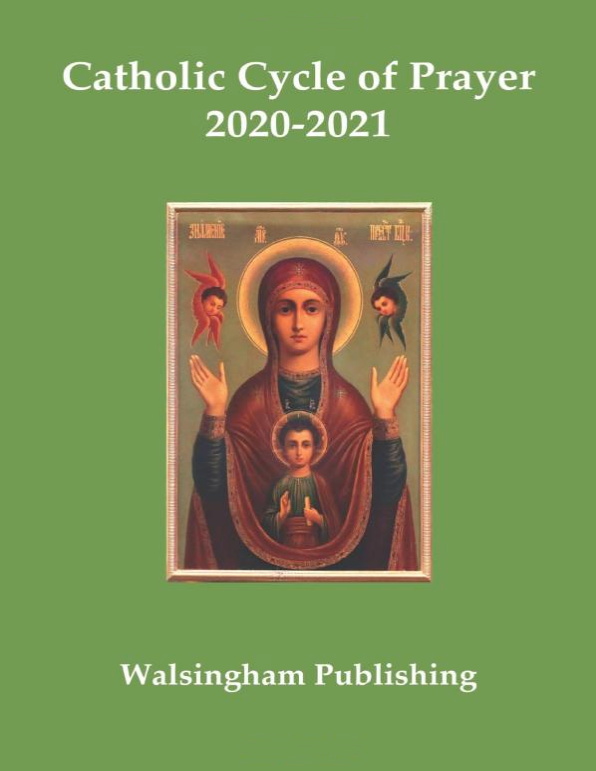 About the Cycle of Prayer
The Catholic Cycle of Prayer assigns a date within the cycle to each Catholic diocese, archdiocese, ordinariate, eparchy, archeparchy, exarchy, and other similar structure. The faithful are encouraged to pray together with other faithful throughout the world with special intention for the clergy and people of each diocese, covering every part of the Catholic Church throughout the world once during each year.
A cycle year begins on the Day of Pentecost, the birthday of the Church, and runs through the Eve of Pentecost in the following year. Because the date of Pentecost varies with the date of Easter, the length of a cycle year varies from year to year. For each new cycle year, a completely random "shuffle" of diocese-to-date assignments is calculated so that each diocese has an equal chance of appearing on any particular day of the year.
The 2020-2021 cycle assigns the 3,169 dioceses to the 357 days from March 31st, 2020 to May 22nd, 2021. As a result, 8 or 9 dioceses appear on each day. It is suggested to pray for the first 4 or 5 dioceses in the morning, and the second 4 in the evening. This can be done at mass, during the daily office, or at any other time of prayer.
The Cycle of Prayer is a project of Walsingham Publishing, and is dedicated to Our Blessed Lady, Mary, Mother of the Church. On the cover is the icon of the Feodorovskaya Mother of God by Fabergé, created in 1908 as a gift to the Grand Duchess Maria Pavlovna the Younger (1890-1958) on the occasion of her wedding to Prince Willem of Sweden, Duke of Sodermanland. The icon belongs to the Russian Icon Museum in Clinton, Massachusetts.
Walsingham Publishing thanks the administrator of the "Catholic-Hierarchy" website for maintaining the up-to-date list of dioceses used to create this Cycle of Prayer.
---
Preview of the Cycle of Prayer.
John Covert, Acton, Massachusetts, USA